My name is Melissa Roszko and I am waging war on boring weddings. I am a young(ish!) vibrant Civil Celebrant making magic in Newcastle, The Hunter Valley, Port Stephens and beyond!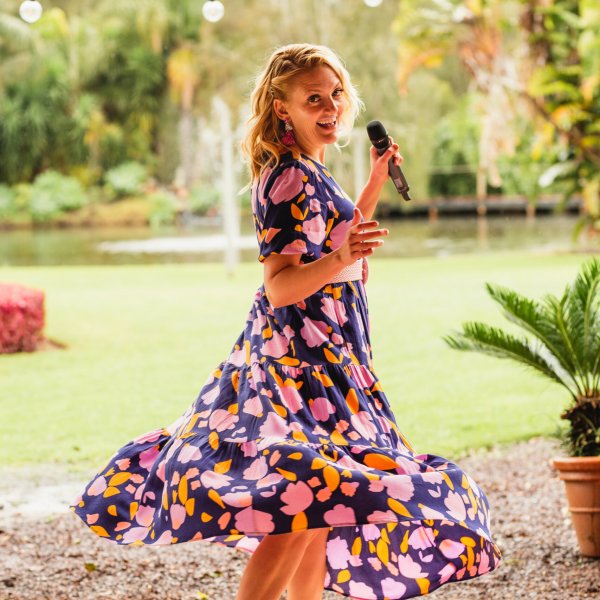 Chloe B.
March 2023
Mel absolutely is one in a million. My hubby and I had a surprise wedding and Mel stood out immediately compared to other celebrants we had spoken to. She was all over it and helped us through the whole process so easily. Mel was 100% the glue that held the whole wedding together and made the day flow. Now the ceremony! Mel went above and beyond, made our ceremony so personalised and knew the both of us better than we knew ourselves! Over 6 months later and we still talk about how incredible Mel was. Our guests all still compliment her and talk about the amazing ceremony she created for us. Cannot recommend enough!!
Skye R.
April 2023
Mel was one of the biggest talking points of our wedding. Mel is a celebrant like no other. She made me, as a very anxious bride, that hates speaking in front of big crowds so relaxed and I even looked forward to the big moment at the alter. I laughed the whole way though my ceremony with Mel making it such a warm, light hearted and hilarious ceremony. My now husband and I felt so comfortable with Mel from the initial meeting all the way to the photos after the big 'I do'. We could not recommend Mel highly enough. The first thing our guests mentioned about our wedding was how unique our ceremony was and how incredible their experience was watching and being involved in such a fun ceremony. She prioritised making it personal in such a genuine way. She will meet you, get to know you and have a cheeky wine with you in order to tell your love story with honesty and understanding. I even got a visit from Mel the morning of 'just to make sure I was feeling ok'. If you want your guests to laugh, be energised and feel included as well as feeling valued as a couple, Mel is the celebrant for you!
Sarah A.
April 2023
If you are looking for the calm to your storm, your home girl, your rock on a very important day of your life I can not recommend Mel enough. Her unique take on words bring laughter and love to everyone, even the disapproving great aunt in the back. Mel's warmth and sense of humour calm the nerves and make even the most stressful moments feel insignificant, she captures what's most important and helps bring everyone together. It was a stress free process because Mel really DID do it ALL! Thank you for making our day perfect Mel x
Dean H.
April 2023
From the get go Mel was so happy to work with us to create our dream day! A lowkey pub wedding surprising our parents, it couldn't have gone smoother thanks to Mel. Her thoughtfulness and beautiful words really made our ceremony so special. Thank you so much Mel!
Annalise L.
April 2023
If you've come as far as googling Marry Me Mel Celebrant to see if she's the one for you… then the rest is history. She's perfect! Mel went above and beyond to make our ceremony the best we could have imagined. We had waited 3 years and 3 cancellations due to Covid and when the day came, we couldn't have asked for it to be better. She personalised it to perfection. Made our guests laugh, cry and snort, and added her own quirks for that little cherry on top. Our guests have not stopped commenting on how amazing our celebrant was and how specific to us as a couple, the ceremony was made to be! The only regret we have, is not booking her as our MC as well! What a night it would have been. Thank you a million Mel. We are so so thankful for you!
Joel F.
April 2023
Mel was extraordinary on our special day. She took the time to get to know me and my partner before the day was and was made everything easy flowing, fun, really professional and down right hilarious. She made our special day. She even themed our star wars ceremony perfect!!
Abby B.
April 2023
We wanted our wedding ceremony to be a reflection of our relationship and Marry Me Mel gave us exactly that. The ceremony was always the part that everyone seemed to just want to get out of the way, but for us it was inclusive of all our closest friends and family, it made us all laugh and was dam right magical. Mel was our Wedding Fairy Godmother, she went above and beyond. Our ceremony was perfect but even before the wedding she was always there with ideas when all those "pre-wedding disasters" happened. On the day of the wedding we were so relaxed and calm because we knew our ceremony would be everything we wanted. Unfortunately, we wont be getting married again so we cannot have Mel put her masterpiece together a second time...But we will continue to recommend her to anyone getting married because with a bibbidi-bobbidi-boo of Mel's magic; she undeniably is apart of making every girls Cinderella moment happen on their big day.
Kelly N.
April 2023
If you're looking for a fun - do it your way marriage celebrant look no further. Mel was absolutely amazing from the very first meeting to a personal visit on the day. (Or the day before freak out in the nail salon 🤣) The ceremony was so much fun and full of laughter. Mel does not do boring! Mel takes the time to really get to know you and incorporates everything and everyone into the ceremony. We were lucky enough to have our beautiful children in our ceremony and Mel gave them both a special part to play. No-one had ever experienced a ceremony like we had so to Mel we thank you. Highly recommended Mel to anyone planning their wedding.
Jacinta S.
May 2023
I can't begin to tell you how amazing and unique Mel is. Our entire ceremony was so perfectly "us" and we couldn't have been happier with how our day turned out! The process from locking Mel in, to living out our ceremony, was seamless. She's organised, fun and wants to make sure your ceremony (even the legal stuff) is all about you and your partner and the love you both share. She even gets your guests involved, which makes for a more intimate ceremony experience. I can't recommend her enough! You won't regret booking in with Mel x
Ashleigh M.
May 2023
Mel is the celebrant you NEED in your life!! We loved Mel from the moment we met her. You feel like she's been your friend for years!! She created the perfect ceremony, providing a fun vibe and keeping guests laughing the whole way through, yet manages to keep it all about the love without any tackiness. She has so many ideas for you to consider when putting your ceremony together and she takes on board everything you want/don't want. I am beyond happy that we chose Mel, your celebrant makes such a big difference to your day, and Mel is honestly just the best!!
Tiffany B.
May 2023
Mel knows how to make weddings FUN!!! When she says, "say goodbye to boring weddings" she means it. I couldn't recommend her enough. She had the perfect balance of love and laughter and went out of way to personalise our wedding to suit us so so perfectly. Our guests loved her also and couldn't stop complementing her throughout the evening. Don't think twice and book Mel now!
Rach G.
May 2023
Mel is FABULOUS! She is so thorough in getting to know a couple, the ceremony she put together for us was beyond what I could have imagined. It was thoughtful, funny and quite magical! It really felt like a very proud friend was marrying us. She understood the vibe we wanted and absolutely nailed it! Over the 14 months that we were planning our wedding, she was easy to communicate with and gave us plenty of information and support. We couldn't recommend her highly enough.
Laura F.
May 2023
My (now) husband and I had Mel along with us for our elopement! It was such a magical and chill day, absolutely immaculate vibe! Mel was perfect and stress free every step of the way. Every little detail was absolutely more than I could have hoped for! Thank you so so much Mel for an easy process and unforgettable day to start our forever.
Hayley J.
June 2023
Mel is amazing! We had an engagement party where we surprised our guests and got married. Mel was absolutely amazing throughout! So down to earth and nothing was a problem, kept in constant communication and was always super helpful with anything and everything. We love Mel and could not recommend her enough she made our day exactly what we had envisioned it!
Eryn R.
November 2022
"There are not enough words to thank and describe Mel - and I mean literally as these reviews are capped!!! From the moment we met Mel at a wedding expo in 2021, we were instantly drawn to her and when we had our first 1:1 meeting - we knew she was the one! 2 months on from our day and our guests still talk about her and the fun filled ceremony AND reception she gave us all - both as celebrant and MC!! She captured not only us but our love story and made sure our guests were equally included! By time our day came, Mel felt more like a friend that we had known for years - not just a celebrant! My only negative is now we're married, it means meetings about vows over cocktails are a thing of the past! We absolutely loved having Mel not only apart of our day - but our whole wedding journey! We loved her and we know all you future couples will as well 💕"
Peta H.
November 2022
"if you are currently looking for a Celebrant. STOP SCROLLING AND PICK THIS CHICK! Mel Is AMAZING! When we first started planning our wedding we really weren't thinking to much about the ceremony.. I mean we wanted it to be light hearted, and "not drag on" I believe we're the words we used. As we Planned our ceremony with Mel she inspired us & helped create a ceremony that was truely 'us'. Getting Married by Mel was so much FUN! She's honestly one in a million and we are SO grateful we found her. We have received compliments like "that was the best ceremony we've ever been to" all night - Thankyou Mel! Your such a beautiful human and you made our wedding ceremony experience super easy and better then we ever imagined a ceremony could be!"
Nay H.
November 2022
"We cannot thank Mel enough for our beautiful ceremony! She worked sooo hard to individualise our ceremony which captured our personalities perfectly. The ceremony was all we could ever have hoped for. It was the perfect mix of funny, romantic and serious. We are very grateful Mel made our ceremony such a memorable experience! Would highly recommend!"
Chris T.
November 2022
"Absolutely amazing! We had Mel as the celebrant for our wedding, she was fun charismatic patient and professional in guiding us and performing through every step of our big day including before during and after. We highly recommend booking Mel for your wedding!"
Claire S.
November 2022
"I am a Marriage Celebrant. So, I set Mel quite a challenge when asking her to create and perform my wedding ceremony... It was beautiful - sweet, fun, romantic and genuine - a great reflection of who we are and a wonderful start to our marriage. Mel was a joy to work with, super responsive, full of great ideas, flexible to our needs and went the extra mile to learn about us in order to tell our story. I highly recommend Mel's services to those looking to have a memorable wedding ceremony."
Bek I.
November 2022
"Mel was friendly, bubbly, easy going and very helpful. Our guests loved how fun she was and how she included them in our ceremony. Mel would go above and beyond to help you with anything and she definitely deserves the 5 star review! Our day ran so smoothly. We would absolutely recommend Mel & are very appreciative for helping to make our day special & memorable!" - Bek & Blake
Jen D.
November 2022
"Mel was fantastic from the moment we first contacted her. She was so organised and really on the ball nothing was too much trouble. She takes the time to get to know you and creates such a unique ceremony that is very you. Her unique approach is something that definitely makes her stand out. All of our guests are still talking about how "it's the best wedding they've ever been to", we definitely highly recommend her."
Holly K.
November 2022
"Marry Me Mel was absolute perfection for our wedding day. The lead up to the day was fun and easy and Mel helped us through the entire process. Her easy going and enthusiastic style put us at ease on the day. Our guests loved her as well and told us they were laughing and happy crying the whole way through the ceremony. We couldn't recommend Mel more!"
Lauren K.
November 2022
"Our wedding ceremony was stellar thanks to Mel. She made the guests so happy and had them all laughing so hard before and all the way through the formalities. Us too! Our planning and payment processes were also made so easy and fun because of her demeanor and the way she works. Nothing was a problem, even when there was a fairly significant delay with the videographer she kept me and the guests informed and cheerful. Strongly recommend Mel for your celebrant if you want to walk into your marriage in laughter and joy."
Shannon S.
November 2022
"Mel was absolutely incredible! If you are looking for a fun and easy going celebrant, look no further. Mel was relaxed but organised. She made the whole process so easy for us and we cannot thank her enough. Mel made the whole process stress free and interactive for our guests, just as we asked. If you are looking for a celebrant and want fun and happy, speak to Mel - you won't be disappointed."
Ryan F.
October 2022
"Mel was the best! When we set out to plan our wedding, we wanted a celebrant that was different, modern, cool - and Mel was all this and more! Our guests have not stopped commenting on how great the celebrancy componenet of our wedding was, and both myself and my wife are over the moon with our ceremony. Mel has excellent communication, follow-through and planning which would make the most even the most novice wedding attendee (like myself) feel comfortable and prepared."
Sarah N.
October 2022
"Had an absolute ball as a guest at a wedding where Mel was the celebrant. It was the most fun and unique ceremony and she really captured the personalities of the couple. She was genuine and dedicated to making the bride and groom's day so very them. Definitely recommend for anyone looking for a vibrant and fun celebrant!"
Rachel A.
October 2022
Marry Me Mel is just ABSOLUTELY AWESOME!!! She was so so helpful and thorough leading up to our wedding day and then on our day the whole ceremony was just amazing and she made it so relaxed and so fun! I really could not recommend Mel enough, if your considering choosing her for your day.. DO IT!!!
Natalie A.
October 2022
"Mel led a true celebration of the Nat and Nick love-story, and it was absolutely awesome! As it should be, the ceremony was a highlight. Mel curated a ridiculously cute, quirky and oh, so us ceremony. She was so easy to work with, collaborating with us as a couple, integrating our story and personalities to curate a bespoke ceremony. Now, as she promises, Mel throws in a few surprises, but the best kind - the kind that makes you say "let's do that again"! And it wasn't just us, I was inundated by guests marvelling at how unique, engaging, fun and "totally us" the ceremony was. Mel brings the day back to what it should be; Just a girl, standing in front of a boy, asking him to love her…..forever…with the best ever wing-wedding celebrant by their side! We cannot recommend her enough. Thank you MarryMeMel!!!!"
SaCha A.
September 2022
"An outstanding celebrant and person. During planning and meetings prior to the wedding, Mel was comprehensive and very communicative to ensure everything was covered off prior to the ceremony. Mel tailors the ceremony to the individual while creating a fun, inclusive and loving atmosphere that was commented on by all who attended. Approach this celebrant with the upmost confidence for your special day. Thanks so much Mel, your the best!!!"
Kate D.
August 2022
"Mel was a fantastic celebrant at our wedding. Very down to earth and charming without being a comedian. Our guests absolutely loved the ceremony she helped put together for us and we enjoyed how easy she made the whole process. I feel like I could have asked her anything throughout the process and gotten a thorough and timely response! I would absolutely recommend anyone looking for a fun loving, bubbly celebrant to consider Mel."
Rachel D.
August 2022
"Marry Me Mel is just ABSOLUTELY AWESOME!!! She was so so helpful and thorough leading up to our wedding day and then on our day the whole ceremony was just amazing and she made it so relaxed and so enjoyable. I really could not recommend Mel enough, if your considering choosing her for your day.. DO IT!!!"
Alana C.
July 2022
"Mel was amazing on our big day. We had a surprise wedding at our baby shower and she made the whole process easy and stress free. The ceremony was fun, quirky and full of laughs. I would have Mel again in a heartbeat and refer her to any one getting married."
Kerrie G.
June 2022
"10/10 amazing. From first contacting mel we knew we were going to have a great & easy experience. She had great communication throughout the entire process, was knowledgeable & professional while also being so fun and easy going. She built us a beautiful custom ceremony that we will always cherish, managing to blend our personalities and love stories into an engaging & fun format. We have had so many compliments already about how much everyone loved it & we are so grateful to Mel for all her effort on our big day."
Alayna D.
June 2022
"Mel is extremely personable and will go out of her way to make your day as special as can be. She is young, vibrant and ready to celebrate your wedding. Thank you Mel for all you did for us on our day."
Alys C.
May 2022
"I would highly recommend Mel to anyone looking for a beautiful personalised ceremony. I could not be happier with how the day turned out because of her. She was more than accommodating with any questions we had leading up to the day and kept us in the loop with all things on her end. 10/10 would recommend"
Angharad von G.
May 2022
"Mel is the most incredible celebrant! She put so much time and effort into getting to know me and my husband that our ceremony was really the most magical moment of our lives. It felt exactly like us and all the guests said the same. Not only did everyone laugh and cry, they felt comfortable sharing a very intimate moment together. She had so many wonderful suggestions to make the ceremony engaging and involve all our friends and family. For someone with anxiety - I could have been a mess with stress in the lead up to the day but I felt so content in the capable hands of Mel and I wouldn't have wanted anyone else to marry us. She truly is a wonderful celebrant and even better person. Seriously have her as your celebrant - she is just a gorgeous soul and we are forever grateful to her."
Laura S.
May 2022
"Mel was amazing! She ensured the whole process what relaxed from start to finish. Mel also was so engaging with our guests and provide the perfect amount of emotion and fun during our ceremony. I couldn't have had a more perfect celebrant marry us."
Sheree
April 2022
"Thank you Mel. Mel was super flexible with helping us plan our wedding. From understanding exactly how we wanted our ceremony to go to making time to speak to us when we were available. Our vows reflected us perfectly, KFC & Foo Fighter!!! On the wedding day Mel was supportive and just went with the flow! I cant recommend or thank her enough"
Chole M.
April 2022
"Where do I start Mel was absolutely amazing and made our beautiful day so much more special and relaxing with lots of laughs from her amazing personal touches to the ceremony from getting to know us and our love story. Would highly recommend Mary me Mel if you want an amazing person who goes above and beyond for your special day."
Karina O.
April 2022
"Mel absolutely nailed our ceremony. She nailed it harder than a caprenter on speed. My wife and I arent overly serious and prefer to have a laugh at anything we can. We didnt specifically tell this to Mel when we had our meetings prior to the ceremony, but she picked up on it and tailored the whole thing around our personality types. I have had so many comments from friends and family saying that it was the most enjoyable ceremony they have ever been to. Usually in my experience the ceremony is just the boring bit before you get to mingle with everyone and have a good time, but in our case the ceremony was a lot of fun also, and set the mood for what was the best night of our lives."
Emily P.
April 2022
"Mel was the most incredible celebrant!! She was so fun and easy going throughout the entire process. From the moment we caught up with over a drink we knew she would be the right person to marry us. She had so many fun ideas and just made the whole process so smooth. She took on every concept that we had and incorporated it into our ceremony just the way we wanted it. She was so fun and playful but also extremely professional. I wanted a ceremony that would truly reflect myself and my husband and our love story, and that's exactly what she gave us. We can't thank her enough!!"
Jess and Nick
April 2022
"Mel made our day so amazing! She went above and beyond as a celebrant and ensured our ceremony is tailored to us and was stress free. I would highly recommend Mel to anyone."
Bianca H.
April 2022
"Mel is amazing! She helped us very quickly plan our engagement party turned wedding 33 days prior to our date. She's crazy, outgoing, bubbly and the funniest human but most of all she really has you and your partner at heart. She knows what's best and puts on a beautiful ceremony"
Matt S.
March 2022
"Mel was fantastic with our wedding, knew she would be perfect for the job when she invited to meet at the pub for a schooner. Took a lot of the stress and headache out of the day. Highly recommend Mel."
Ashlyee R.
March 2022
"Mel has been unreal from day one! Meeting her during covid was done virtually and she reeled us in immediately, with her humour, easy going nature and her absolute love for love. She is organised and we barely had to lift a finger getting the ceremony organised. She delivered exactly what we wanted on the big day, was on point with the music, and all of our guests commented on how fabulous she was. She had the guests laughing, and most of the - the bride and groom which really helped settle the nerves. Thank you gorgeous! I knew we made the right choice and I wish We had another reason to do it all again ❤️"
Genna Milner
March 2022
"Mel was amazing with helping us plan and implement our perfect day. She was super supportive, flexible and had this amazing ability to engage everyone at our wedding and intertwine personal twists and humour. Highly recommend Mel as your celebrant, oh what a day!!"
Kalia S.
February 2022
"Mel is the most incredible celebrant! She went above and beyond for our wedding and if I had to pick my favorite part out of our day it would be the amazing ceremony that Mel created for us. Mel managed to have everyone laughing, crying in blubbering messes and, back to laughing all in 30minutes. Not only did she create a beautiful personalized ceremony down to every detail but she was there every step of the way, and as a bride there is no better feeling than having support of someone that has done it herself. It was raining on our day Mel called to say she had umbrellas, my cake lady fell through and she had at least 10 recommendations, Mel answered all of my late-night emails and texts, and talked me down from many stressful moments. She is worth way more than what she charges!!!! -Thank you Mel"
Genna P.
Feb 2022
"Mel was an amazing celebrant that tailored our wedding to our needs. We had a fun first consultation as a get to know us as a couple which helped her to support us through out the planning process. Mel had an fantastic foresight engaging the guests with funky ways of getting them involved. Everyone had a blast!! lots of laughs, tears and hugs from all. I highly recommend Mel for your special day, especially if your like me and needed bursts of fun and engagement"
Kadisha S.
Feb 2022
"Marry me Mel was better than I could have imagined. She was so accommodating, efficient, bubbly and motivated to make our day amazing! And boy didn't she make it perfect!"
Laura and Dan
September 2021
"Mel was absolutely fantastic! We booked her for our intimate ceremony & again for a bigger celebration after COVID. She perfectly captured both my partner & I. The ceremony was "us". We could have it exactly the way we wanted it and Mel was there to make sure it was the best day of our lives. Mel also went above and beyond in getting a personalised video message from one of the bands that was playing at Hot Dub in 2018 when we first met. Highly recommend booking Mel as your wedding celebrant if you want someone who has a great personality, is fun, very thoughtful and makes sure your ceremony is exactly how you pictured it would be".
Emanuel M.
October 2021
"From our initial meeting with Mel, my wife and I knew that she was the celebrant for us. We had no idea how or what we had to arrange prior to our big day in regards to paperwork etc. and quite honestly we were both a little overwhelmed. But Mel was able to put our minds at ease in this regard, totally organised, she told us what she needed and we left the rest to her. She made some suggestions of what would work for our wedding day. And the result? Magic ! Mel made our wedding day special, fun, memorable, absolute perfection. She is a true professional. Highly recommend her for your special day. Thank you Mel."
Matt and Kez Burgess
October 2021
"Mel was the most loving and caring celebrant we could of had for our wedding, she was always available to answer any questions and made our ceremony all about us. I love how mel sticks in some sneaky personal touches to make it your own unique ceremony. love your work Mel keep it up x" (the bride) "Highly Recommend Mel as your celebrant. She was able to meet up, pre-wedding, to get the perfect blend of mine and my bride's personalities into the ceremony. Mel was able to operate with the upmost professionalism with the perfect balance of humour added. Great stuff Mel keep up the good work".
Secret Couple
2021
"My husband and i were married in the nick of time before another COVID19 lockdown. We wanted a minimal, backyard wedding with no fuss, and a very relaxed vibe. We contacted multiple celebrants, some were too serious and some were a bit too real and vacant. Mel was the perfect fit! She was funny, genuinely kind and helpful, contactable at any time throughout the process, SO flexible with arrangements, fun, charismatic and just everything you could ever want your celebrant to be. It was like having a friend at the wedding instead of a celebrant. She delivered the ceremony perfectly, with humour and lightheartedness we all needed to feel relaxed and enjoy our special day. Just by reading her website and then a quick phone call, we knew she would be the perfect fit, and boy did he deliver. We would 10/10 recommend her to any of our friends or family for any sized wedding. Thank you Mel!"